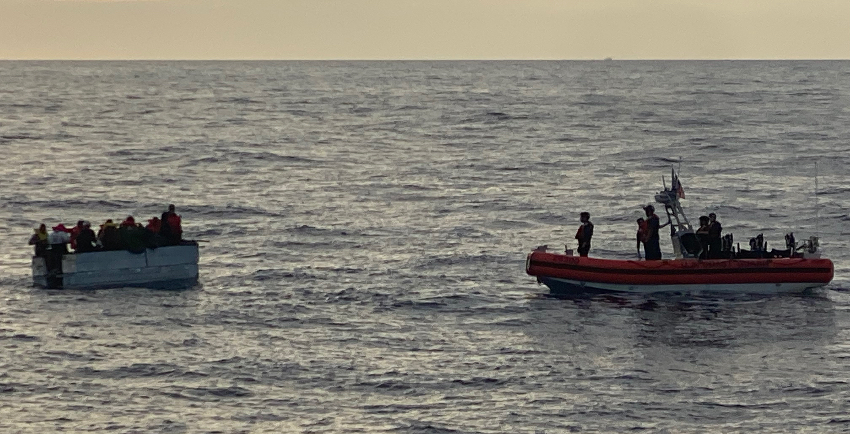 Repatriados este domingo 18 de diciembre, un grupo de 82 balseros cubanos, por parte de la Guardia Costera de los EEUU (USCG por sus siglas en inglés), recogió un comunicado de la agencia.
Este último grupo de cubanos deportados a la Isla comunista, habían sido interceptados por los guardacostas en cinco operaciones de rescate marítimo la semana pasada.
#Breaking @USCG Cutter Charles David Jr.'s crew repatriated 82 Cuban, Sun.

"USCG, partner agency crews are out in full force off the Florida coast doing our best to stop illegal migration at sea. Use legal means of coming to the U.S." – Lt. j.g Fujimoto. #DontTakeToTheSea pic.twitter.com/EJQkyuH0wo


— USCGSoutheast (@USCGSoutheast) December 18, 2022
La entidad compartió en Twitter imágenes de las dos embarcaciones interceptadas, una de ellas se volcó a unas 85 millas al suroeste de Key West, el jueves en la tarde, y las personas que venían a bordo cayeron al mar. Afortunadamente todos pudieron ser rescatados por la USCG.
Mediante otro tuit, la agencia pidió a cubanos que residen en EEUU, cuyo familiar fue interceptado por la Guardia Costera, que se comuniquen con su representante gubernamental local.
Para personas que residen en los EE.UU buscando información sobre un familiar posiblemente interceptado por la Guardia Costera, por favor comuníquese con su representante gubernamental local.

Read: https://t.co/FBttA4I3Dw@USEmbCuba pic.twitter.com/AmDVaRs2SR


— USCGSoutheast (@USCGSoutheast) December 18, 2022
Desde el 1 de octubre hasta el pasado miércoles 14 de diciembre, el número de balseros cubanos interceptados en aguas de la Florida era de 3,370, más de la mitad de los que fueron detenidos durante el año fiscal anterior, cuando 6.182 isleños fueron atrapados por la USCG intentando llegar a tierra de libertad de manera ilegal.
También hasta el pasado 1 de octubre, habían arribado a Estados Unidos alrededor de 225.000 cubanos a través de la frontera, en lo que se considera el mayor éxodo masivo desde la Isla en la historia migratoria entre ambos países.