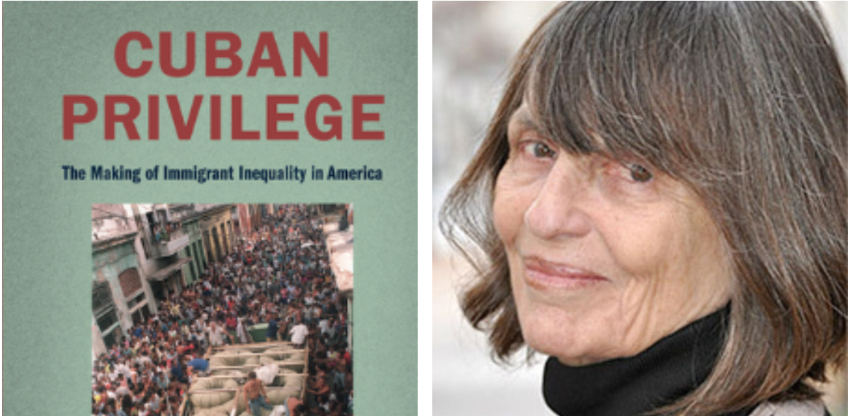 Cambian fecha y lugar de la presentación del polémico libro «Cuban Privilege: The Making of Immigrant Inequality in America» de la autora estadounidense Susan Eckstein, prevista a darse ayer viernes 2 de diciembre en la biblioteca Books & Books en Coral Gables.
Según Kenneth A. Jessell, presidente de la Universidad Internacional de Florida (FIU), la presentación del libro se realizará el próximo viernes 9 de diciembre en el Wertheim Performing Arts Center, en el Campus Modesto A. Maidique de FIU, a las 7:00 pm.
Jessell aclaró en un comunicado que ha habido gran interés en el tema, por lo que decidieron trasladar el simposio de Books & Books en Coral Gables a un recinto de mayor amplitud.
Sin embargo, lo cierto es que el volumen ha generado gran incomodidad dentro del exilio cubano, por considerar ofensivo que se diga que los migrantes cubanos, refugiados por razones políticas durante décadas, hemos sido privilegiados.
Un grupo de cubanos exiliados había organizado una manifestación pacífica ayer 2 de diciembre, afuera de Books & Books de Coral Gables, por estar en contra del mensaje que intenta ofrecer el libro.
Por su parte, el presidente de FIU advirtió que «las universidades tienen la responsabilidad de defender la libertad de expresión y apoyar el debate abierto de temas, incluso los que pueden ser controvertidos».
«En la FIU, una universidad pública de investigación arraigada en una comunidad formada en gran parte por exiliados e inmigrantes que huyeron del comunismo y otros regímenes opresivos, esta responsabilidad adquiere un nuevo significado», añadió.
«Nunca conoceré personalmente el dolor que la comunidad cubana en el exilio ha soportado a manos del régimen totalitario en la isla, tengo una apreciación por la historia que informa esta conversación y las muchas contribuciones que los cubanoamericanos han hecho al desarrollo de FIU, Miami, el Estado de Florida y más allá», sentenció el académico.
«Qué horrible que llamen "El Privilegio Cubano" a un exilio que lleva más de 60 años sufriendo la dictadura más sangrienta del hemisferio. Señora Eckstein, la invito a que se pase un año viviendo como un cubano de a pie y luego hablamos de privilegios. ¿Cómo FIU se prestó para esto?», lamentó el duo humorístico Los Pichy Boys a través de sus redes sociales.