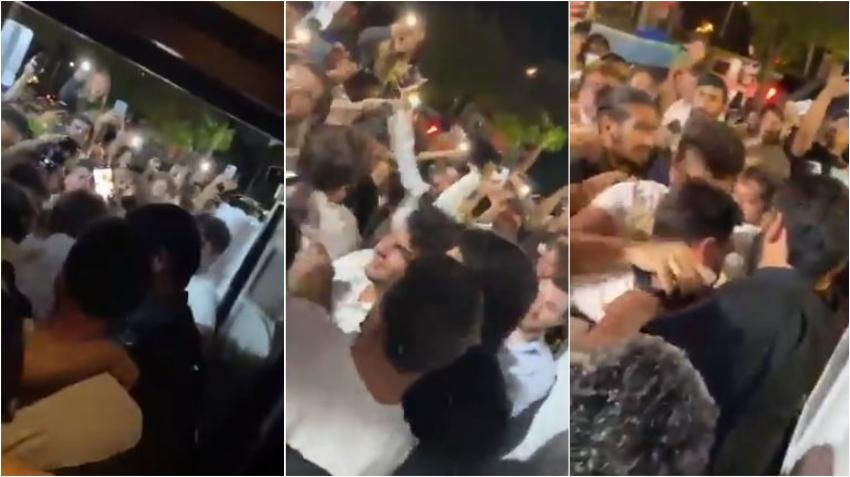 La estrella del fútbol argentino Lionel Messi fue absolutamente acosado por fanáticos que se enteraron de dónde estaba comiendo en Miami, Florida.
El seis veces ganador del Balón de Oro se encuentra pasando tiempo en el estado del sol después de ganar su primer trofeo internacional con Argentina la semana pasada.
Messi quizás esperaba un descanso relajante con la familia, pero eso no es exactamente lo que obtuvo cuando los fanáticos se enteraron de dónde estaba cenando.
Madness! 😱 This is what happened when a passionate crowd found out that #Messi🇦🇷 was having dinner at a restaurant in Miami.

📽️: @marubinstein pic.twitter.com/IUtFSgE2HA


— beIN SPORTS USA (@beINSPORTSUSA) July 16, 2021
En redes sociales se han publicado imágenes de Messi saliendo de un restaurante por la noche y siendo bombardeado por seguidores en el exterior. El joven de 34 años tuvo que ser escoltado a través de la animada multitud y parecía un verdadero desafío lograr que pasara.
After winning Copa América with Argentina, Lionel Messi is evidently on vacation in Miami. Hope he wasn't expecting peace and quiet 👀

(via @TNTSportsAR) pic.twitter.com/Yu9RroHrCZ


— Planet Fútbol (@si_soccer) July 16, 2021
Horas antes se habría publicado una foto de él relajándose y tomando el sol en lo que parecía un área apartada, pero la privacidad se fue por la ventana cuando estaba cenando.
De acuerdo al medio deportivo SportBible Messi tomó un jet privado desde su ciudad natal de Rosario a Buenos Aires con su padre para poder visitar la embajada estadounidense y conseguir lo necesario que le permitiera ingresar a Estados Unidos.
Luego regresó a Rosario para recoger a su esposa Antonella y sus tres hijos antes de volar a Miami.
Aunque se dice que un acuerdo está cerca, Messi aún no ha firmado un nuevo contrato con el Barcelona y, por lo tanto, es agente libre en este momento.
No se descarta que la estrella pueda formar parte del Inter Miami, el cual es administrado por David Beckham y Jorge Mas.