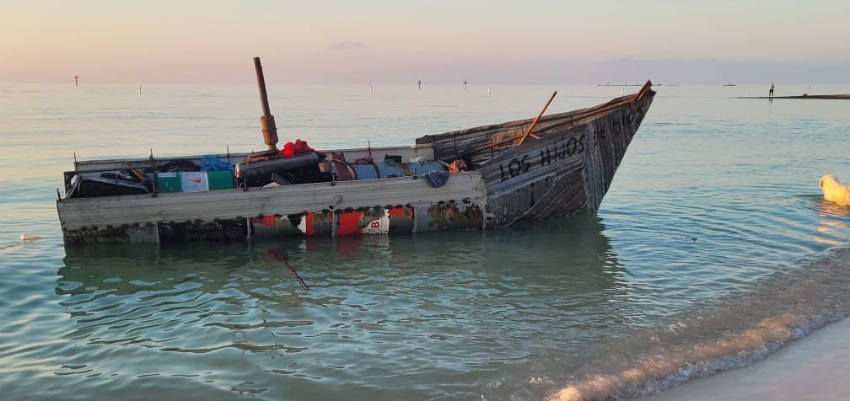 Al menos 47 migrantes cubanos fueron interceptados ayer viernes 23 de diciembre en aguas de la Florida, informó la Patrulla Fronteriza de Estados Unidos (USBP) a través de Twitter.
Según el tuit compartido por Walter N. Slosar, jefe de la USBP en el sector Miami, detuvieron a múltiples embarcaciones con 52 migrantes en total, 47 cubanos, y cinco personas procedentes de la República de Georgia, que venían a bordo de una lancha motorizada.
During the past 24 hours, #BorderPatrol agents & LE partners responded to multiple migrant landings in #SouthFlorida & encountered 52 migrants (47- Cuba, 5- Republic of Georgia). We appreciate the ongoing support from all of our federal, state, and local partners.#cbp #florida pic.twitter.com/mtJv4UAukB


— Chief Patrol Agent Walter N. Slosar (@USBPChiefMIP) December 23, 2022
También esta semana, el jueves 22 de diciembre, 175 balseros cubanos fueron interceptados tras pisar suelo americano en los Cayos de Florida y Hollywood Beach respectivamente.
During the past 24 hours, 175 migrants from #Cuba were taken into U.S. Border Patrol custody. Agents with support from federal, state, and local LE partners have responded to multiple migrant landings in Florida Keys & Hollywood Beach. #thursdaymorning #hollywood #florida #cbp pic.twitter.com/OSaKZakhma


— Chief Patrol Agent Walter N. Slosar (@USBPChiefMIP) December 22, 2022
La llegada de migrantes cubanos a EEUU por vía marítima o terrestre no se detiene.
De acuerdo a un editorial reciente de Martí Noticias, noviembre fue el mes en que más cubanos cruzaron a EEUU desde que Nicaragua, aliada política de La Habana, anunciara libre visado para los antillanos en 2021.
Tan solo el pasado mes, revelan estadísticas de la Oficina de Aduanas y Protección Fronteriza de Estados Unidos (CBP, por sus siglas en inglés), un total de 35.849 cubanos entraron a Estados Unidos de forma irregular por las fronteras terrestres.
Entre noviembre de 2021 hasta diciembre de 2022, 284.273 cubanos han llegado a tierra de libertad a través de Nicaragua, en lo que ha significado el mayor éxodo masivo en la historia migratoria entre Cuba y EEUU.
Mientras tanto los intentos por mar también se multiplican, 6.182 balseros han sido interceptados por la Guardia Costera estadounidense en los 12 meses del período fiscal 2022 que culminó el pasado 1 de octubre. Al tiempo que las muertes y desapariciones de migrantes cubanos en alta mar han aumentado con creces por desgracia.
Cabe mencionar que justo el miércoles de esta semana, los guardacostas norteamericanos suspendieron la búsqueda de nueve cubanos desaparecidos en Lake Worth Beach, Florida, solo uno de los diez migrantes que venían a bordo de la rústica embarcación sobrevivió para contarlo.
Sin contar, que la mayoría de los balseros cubanos que logra llegar a territorio estadounidense después de superar cuantiosos desafíos en el mar, son repatriados a la Isla.