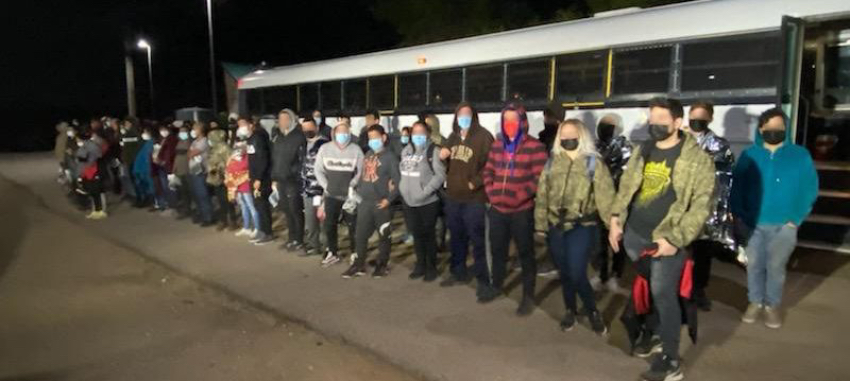 La Patrulla Fronteriza de Estados Unidos detuvo el sábado a 58 migrantes cubanos en la estación de Tucson al este de Sasabe, en el desierto de Arizona, dieron a conocer las autoridades a través de Twitter.
En el grupo iban también cinco ciudadanos procedentes de Honduras y Guatemala, lo que incrementó la cifra de migrantes detenidos a sesenta y cuatro.
Sixty-four migrants were encountered by Tucson Station agents east of Sasabe, AZ. The group mostly consisted of adults from #Cuba. Five were citizens of #Guatemala and #Honduras. The group was transported to Tucson to be medically screened and processed. pic.twitter.com/BVmleMHZ3I


— John R. Modlin (@USBPChiefTCA) March 26, 2022
Según comunicado de John R. Modlin, jefe del Sector Tucson de la Patrulla Fronteriza, los indocumentados fueron transportados a Tucson para ser examinados y procesados médicamente.
De acuerdo a un reporte de Martí Noticias, a mediados de marzo se contabilizaban en más de 26 mil los cubanos que habían llegado a la frontera de Estados Unidos en 2022, una muestra del gran éxodo silencioso que ha desatado el régimen desde que Nicaragua anunciara libre visado para los isleños en noviembre de 2021, meses después del estallido social del 11 de julio.
Al menos 9.827 cubanos se presentaron en los distintos puntos de la frontera con Estados Unidos en enero, y 16.657 en febrero, teniendo en cuenta estadísticas del Departamento de Aduanas y Protección de Fronteras (CBP).