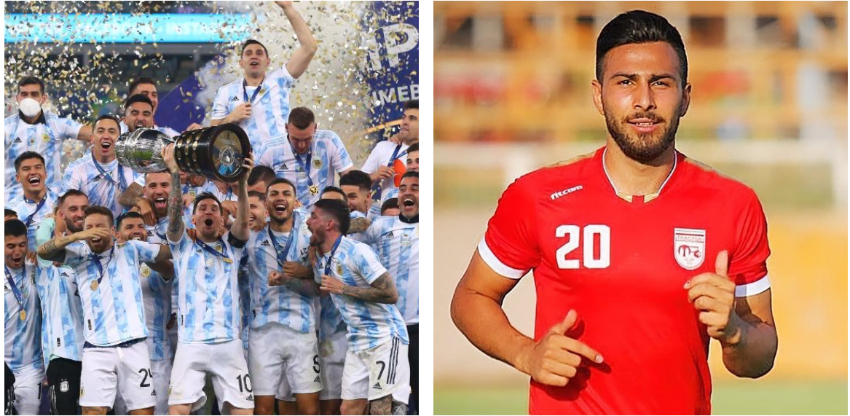 El presentador cubano Alexander Otaola recordó en redes sociales, que mientras este domingo muchos en el mundo entero celebran el triunfo de Argentina en el Mundial de Fútbol de Qatar, en Irán se preparan para ahorcar al futbolista Amir Nasrazadani, por apoyar los derechos humanos y a la mujer en su país.
El polémico influencer también criticó la victoria del equipo de Lionel Messi, porque a su juicio es un tributo al fallecido Diego Armando Maradona, una figura si bien célebre en el mundo del fútbol, bastante cuestionada por su amistad con dictadores como Fidel Castro y Hugo Chávez.
«A todos los que celebran el triunfo de Argentina, déjenme decirle que este título fue un tributo a Maradona, por parte de la nación a la que El entrenó y fundó su equipo oficial (QATAR) Y mientras celebras en IRÁN planean asesinar a un jugador por apoyar a las mujeres. El mundo no está haciendo lo correcto», escribió en sus redes quién se piensa postular a la alcaldía de Miami en 2024.
Aunque muchos de sus seguidores estuvieron de acuerdo en su preocupación por el caso de Amir Nasrazadani, no vieron con buenos ojos sus críticas al triunfo de la selección albiceleste.
«Con respeto y admiración a tu persona y trabajo, yo celebro el triunfo, soy fan de Messi y merecía este triunfo. Argentina y América casi toda, esta emocionada y agradecida», comentó la usuaria Madelin Ramos.
«Soy tu fan, pero no estoy de acuerdo contigo en muchas ocasiones y esta es una de ellas . Yo veo el triunfo de Messi, de Argentina
de América Latina. Nada más que eso. Lo demás es otra cosa. Es mi opinión», sostuvo por su parte otra seguidora Yovana Hernández.
«Eso mismo comenté en mi casa. Todo el mundo celebrando y nadie piensa en el jugador que ni siquiera se sabe si logrará salir de esta o no», concordó Mara Lidia Vázquez.
La cantante colombiana Shakira ha sido otra de las personalidades que ha alzado la voz por el futbolista iraní.
«Hoy en la final de la Copa del Mundo, solo espero que los jugadores en el campo y el mundo entero recuerden que hay un hombre y un compañero futbolista llamado Amir Nasr, en el corredor de la muerte, solo por hablar a favor de los derechos de las mujeres», expresó en Twitter.
«Ojalá haya más de un minuto de silencio en nuestros corazones para recordar lo importante y más de una voz unida gritando por lo justo», añadió.
Today at the final of the World Cup, I only hope the players on the field and the whole world remembers that there's a man and fellow footballer called Amir Nasr, on death row, only for speaking in favor of Women's rights. pic.twitter.com/VdMicGVaml


— Shakira (@shakira) December 18, 2022
Un joven argentino se hizo eco del mensaje de la colombiana, el adolescente explicó que por su nacionalidad siente un gran orgullo por los jugadores que están cumpliendo sus sueños, pero recordó que «está pasando algo terrible en el mundo del fútbol y nadie dice nada».
«Yo también pienso como tú. El mundial, la navidad no pueden ser más importantes que la vida humana, los derechos de las mujeres, y aquellas voces que a la fuerza otros quieren silenciar. Hablemos de lo realmente importante o lancemos un grito unidos, mientras tengamos voz», precisó el jovencito.
Yo también pienso como tú. El mundial, la navidad no pueden ser más importantes que la vida humana, los derechos de las mujeres, y aquellas voces que a la fuerza otros quieren silenciar. Hablemos de lo realmente importante o lancemos un grito unidos, mientras tengamos voz. pic.twitter.com/bpkh1s04pc


— Shakira (@shakira) December 17, 2022