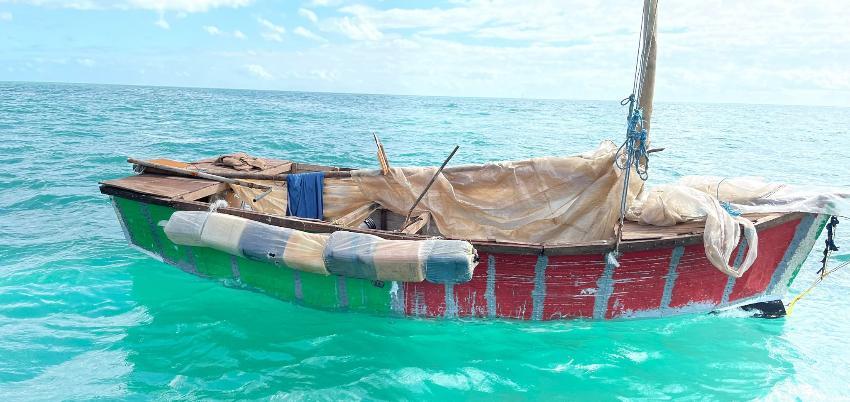 Agentes de la Patrulla Fronteriza respondieron este domingo 8 de enero a la llegada de dos rústicas embarcaciones a los Cayos de la Florida, en las cuales venían a bordo 53 balseros cubanos, cuatro de ellos tuvieron que ser llevados de inmediato a un hospital del área, para que recibieran tratamiento por deshidratación, dio a conocer a través de un tuit el jefe de la entidad en el sector de Miami, el agente Walter N. Slosar.
On #Sunday, #BorderPatrol agents and LE partners responded to two migrant landings in the #FloridaKeys and encountered 53 #Cuban migrants. 4 of the migrants were taken to a local area hospital and treated for dehydration. @HSTF_Southeast pic.twitter.com/fVmrWjtCOf



— Chief Patrol Agent Walter N. Slosar (@USBPChiefMIP) January 8, 2023
El pasado 6 de enero la Patrulla Fronteriza respondió a la llegada de cinco embarcaciones de migrantes cubanos en los Cayos de la Florida.
El incesante arribo de balseros cubanos en los últimos días ha provocado una crisis humanitaria en el sur de la Florida, el viernes el gobernador de la Florida, Ron DeSantis se vio obligado a activar la Guardia Nacional para hacer frente al creciente flujo de migrantes cubanos y haitianos hacia el sur del estado.
«El Estado de Florida desplegará medios aéreos, incluidos aviones y helicópteros de la Guardia Nacional de Florida, y reforzará las patrullas marítimas de la Comisión de Conservación de la Pesca y la Vida Silvestre de Florida para apoyar las interceptaciones en el mar, y garantizar la seguridad de los migrantes que intentan llegar a Florida a través del Estrecho de Florida», indicó el republicano.
«A medida que los impactos negativos de las políticas de inmigración de (Joe) Biden continúan sin disminuir, la carga del fracaso de la administración Biden recae en las fuerzas del orden locales, que carecen de los recursos para hacer frente a la crisis», añadió culpando a la administración actual de la difícil situación que enfrenta el estado debido a la llegada de miles de migrantes en los últimos doce meses.
Reportajes recientes de los canales hispanos del sur de la Florida han dado cuenta de la crisis que enfrentan las oficinas estatales totalmente colapsadas por la masiva llegada de migrantes durante el último año, así lo evidencian las imágenes de los primeros días de 2023 afuera del Departamento de Niños y Familia en la ciudad de Hialeah, en Miami-Dade, en donde se aprecian las enormes colas de cubanos para solicitar ayuda del gobierno.
Ya desde septiembre de 2022 también se veían grandes filas de personas disgustadas, esperando ser atendidos en las oficinas para licencias de conducción en Miami.
Sin embargo, la alcaldesa de Miami-Dade Daniella Levine Cava, aseguraba que no había crisis porque habían muchas personas ayudando.