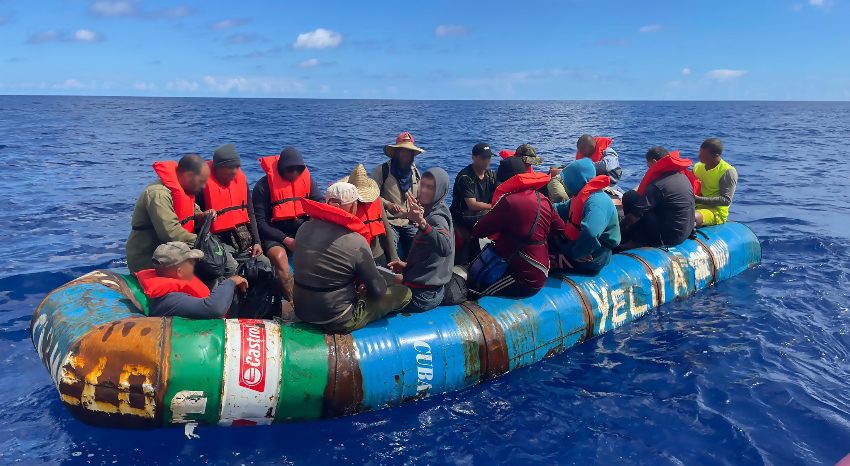 Crece el número de cubanos que se lanza al mar en peligrosas travesías, a medida que la situación empeora en la Mayor de las Antillas, según información revelada por la Guardia Costera de Estados Unidos (USCG por su siglas en inglés), han interceptado a 40 balseros procedentes de la Isla, en las últimas 24 horas.
Al menos 12 cubanos y un ciudadano sudafricano fueron traslados el viernes 23 de septiembre a la Royal Bahamas Defence Force (RBDF), luego de que Bahamas solicitara ayuda para el rescate de personas en aguas territoriales.
#Breaking @USCG Cutter Robert Yered transferred 12 Cubans and one South African to @RBDF Friday, after the #Bahamas requested assistance in rescuing people in their territorial seas. #DontTakeToTheSea @USEmbassyNassau pic.twitter.com/LNUsnDxPFY


— USCGSoutheast (@USCGSoutheast) September 23, 2022
Mientras la tripulación del guardacostas Paul Clark repatrió 28 cubanos en horas tempranas del sábado.
En el mismo tuit la Guardia Costera advertía se han perdido 64 vidas en el mar durante el actual año fiscal, al menos las que se tienen contabilizadas.
«Las tripulaciones están duplicando los esfuerzos para asegurarse de que ese número no aumente», indicaron al tiempo que piden a los cubanos no lanzarse al mar ante tantos riesgos.
#Breaking @USCG Cutter Paul Clark's crew repatriated 28 Cuban's to #Cuba, Sat., ahead of TS #Ian FY22, we've repatriated 6,052.

"We've lost 64 people at sea this FY, crews are doubling efforts to make sure that number doesn't rise." – PA1 Groll
#DontTakeToTheSea @USEmbCuba pic.twitter.com/tIwhBct28o



— USCGSoutheast (@USCGSoutheast) September 24, 2022
También el jueves 22 de septiembre fueron repatriados a la Isla 46 cubanos.
«La USCG, las agencias asociadas, están duplicando las patrullas para garantizar que el número de muertos no aumente a medida que pasan más tormentas que amenazan la vida», sostuvo en Twitter el capitán Kinsey al referirse a la actual temporada ciclónica.
Desde el 1 de octubre de 2021 hasta ayer viernes 23 de septiembre, 3.400 balseros cubanos han llegado a Florida, de acuerdo a datos publicados por el agente de la Patrulla Fronteriza de EEUU Walter N. Slosar.
Al tiempo que 200 mil isleños han ingresado a Estados Unidos por frontera en los últimos 11 meses, lo que se traduce en el más grande éxodo de cubanos en la historia.